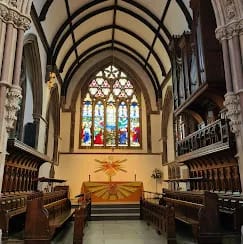 DURSLEY 2024 COFFEE, CAKE & MUSIC
This is the 19th series of Saturday morning organ concerts organised by Nigel Davies, Director of Music here at St James the Great.
This, the first concert of 2024 is given by Harry van Wijk.
Coffee and home-made cake will be served from 10.30am. The music begins at 11.00am and lasts for about 30 – 40 minutes.
There is no charge but a retiring collection will be taken, the proceeds of which will go to the work of St James's church.
Click here to download the specification of the interesting hybrid organ here at St James.
---
Harry van Wijk (b1971) is a versatile musician with passion. He works in The Netherlands as concert organist, church musician and choir director. He has played concerts in Europe and the USA. He likes characteristic concert programs, with the best music from the organ literature; but also film music with organ, synthesizer and percussion, or music with organ and narrator.

Harry studied at the conservatory with Kees van Houten and Theo Jellema. He also studied in Belgium with Joris Verdin and in Germany with Wolfgang Zerer. The last years of his study he specialized in French and German music from 1850 – 1950. After leaving the conservatory he had lessons and masterclasses with Ludger Lohman, Leo van Doeselaar and Arno Krijger, with music from J.S. Bach, F. Mendelssohn Bartholdy and 20th century music. He has won prizes at the International Organ competition in Nijmegen and at several competitions in Germany.

Harry has published a CD that includes 'Die Moldau' by B. Smetana. He recorded this in Philadelphia (USA) on the beautiful Ernest Skinner organ at Girard College that is perfectly suited for playing orchestral music.