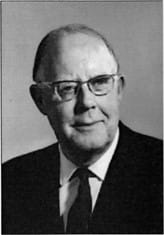 John Henshaw Britton was born in 1904. He attended Bristol Grammar School and then, as the family boot- and shoe-making company G B Britton & Sons became increasingly more profitable, Clifton College. He was very musical and played the organ at Kingswood Methodist Church from a young age. He wanted to read music at Oxford but his father said he couldn't as he wanted him in the family business. So he read Greats (Classics) instead, went into the business and made a great success of it, making the money which is now in the Trust.
He married Monica who was in the Foreign Office and was the first woman diplomat posted abroad – to Washington. She became a great support to Jack and very active in all his charitable initiatives. The J & M Britton Trust was set up by Jack and Monica in the 1960s.
Around this time he served as Sheriff of Bristol, Chairman of Bristol Magistrates, was created CBE, and became a Governor of Clifton College, later becoming President of Council.
He maintained his passion for organ music, giving a new organ to his local church at Syston where he went to practise. He gave a few recitals including one at Clifton Cathedral. He gave a new organ to his old College, Trinity, Oxford and he supported many other refurbishments and replacements of organs. This included the reinstallation of the Clifton College Big School organ, the Father Willis, in 1972, after it had been dismantled in 1968 when the additional middle floor had been added to make room for more dining space. (This organ has since been relocated to St Marys, Bridgnorth, Shropshire.)
The Trust gives a lot of money to charities in the Bristol area and is at present inundated with requests to relieve poverty and to help a variety of charities working to improve peoples' lives. The Trust continues to support efforts to refurbish organs and to encourage young people to learn the organ and endows the J & M Britton Organ Scholarship at Clifton College. Its biggest grant of a quarter of a million pounds has been to help refurbish the organ in the former Colston Hall, now known as Bristol Beacon. The organ will be known as The Britton Organ, and the grant will also incorporate the setting up of an annual scholarship for budding young organists.
Jack Britton died in 1990.